Detox & Sivananda Yoga Retreats
Ayurveda Yoga Meditation
For beginners & intermediates
French and English speaking
22 days/21 nights including:
8 Days of Ayurvedic Detox
Sivananda Yoga
Meditation
Bhakti Yoga (vocals)
Spiritual teachings
Visits to sacred places
Cultural activities
Vegetarian meals
Download Brochure, rates, rules and registration form
India is a sacred land where life is punctuated by rituals. In Karnataka, as everywhere in the country, the spiritual vibrations seem to emanate from the earth, we feel them everywhere, in nature, in the streets, in the eyes of people and of course in the countless temples. Nothing like an immersion in this enchanted world to awaken our joie de vivre.

21 DAYS OF DETOX & SIVANANDA YOGA IN SOUTH INDIA
Our intensive program begins with « Virechana », an Ayurvedic detox supported by the practice of yoga of Sivananda which includes asanas (yoga posture), meditation, chanting and spiritual teachings. It is a good way to cleanse yourself physically, emotionally and mentally. After three weeks, you won't be quite the same person. New energy, new habits, new perspectives. You have lost a few pounds of toxins, your eyes are brighter, your mind clearer and your thoughts more positive. All you have to do is cultivate on your return home what you will have received during the retreat.
Why attending a retreat with us?
Because we have organized in five years more than 250 yoga and meditation retreats in India and Canada. We have set up a resourcing program that has proven its worth. Our retreats in India are known to be a source of both physical and spiritual benefits because our approach is holistic.
Group discipline facilitates practice and progress. What you could not accomplish alone, you will do easily during these three weeks. Like for example doing a Virechana while remaining active and continuing to interact with others. You will be amazed to discover such a source of energy within yourself.
Yoga level: beginner and intermediate.
Teachings given in French and English.
Program for information only. Not mentioned are some local outings that will be organized as the retreat progresses. Also count in addition three workshops which will be given on certain afternoons not yet specified:
« The little anthropology lesson » leads to a reflection on the encounter with India and will give you some tools to make the most of this experience.
« Initiation to Hinduism » presents the history of Hinduism, its characteristics and currents of thought. This will give you landmarks when you visit the temples.
« Sivananda Yoga » presents Sivananda's yoga of synthesis. The workshop will allow you to better understand our approach and how we came to organize retreats in India.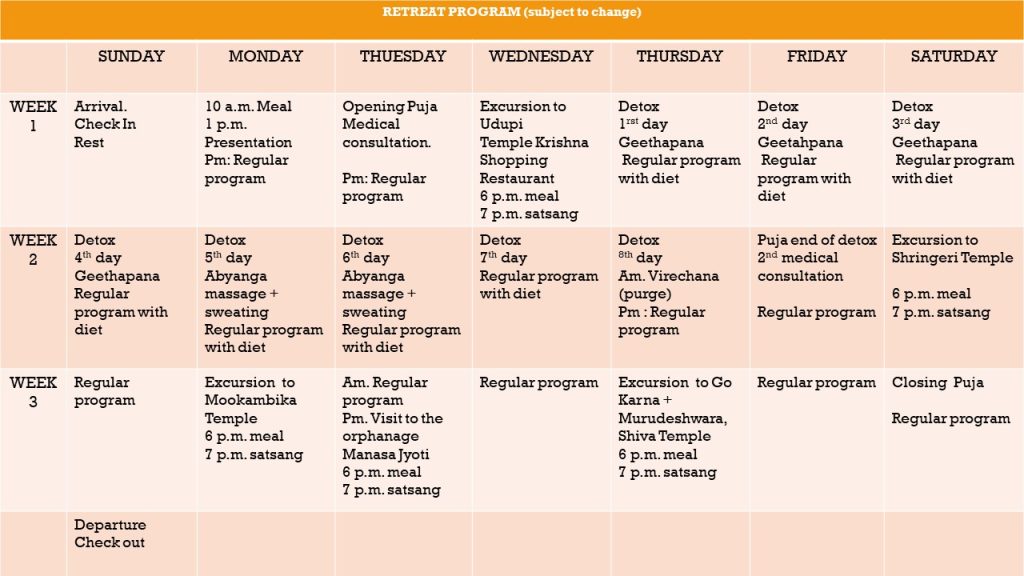 Regular day schedule (for information only)
07:00-08:35 Morning satsang meditation
08:30-10:00 Yoga Class
10:00-11:00 Meal
11:00-16:00 Rest
16:00-18:00 Yoga class
18:00 Meal
19:00-21:00 Meditation / satsang / puja / cultural program
From December 18 to January 8, 2023
From December 18 to January 1rst, 2023
From February 12 to March 5, 2023
From February 12 to February 26, 2023
 From 8 to 16 participants maximum per retreat
Beginner and intermediate level.
For English-speaking and French-speaking clientele.
RATES
Two-week stays 14 nights/15 days or three weeks 21 nights/22days at Glucklich Beach Cottages Resort with Dhyana Ananda

Occ. quadruple. Dormitory of 4 people of 27m2 with balcony and sea views
Two weeks: $3090 CAD/pers
three weeks: 3390$CAD/pers
Occ. double. Comfort room for 2 people of 20m2
Two weeks: 3570$CA/pers (solo +300$)
Three weeks: 3870$CAD/pers Occ. double. (solo +500$)
Deluxe suite room for 2 people of 27m2 with balcony and sea view
Two weeks: $4175 CAD/pers (solo +300$)
Three weeks: 4475$CAD/pers (solo +500$)

The package includes: detox (2 medical consultations, 2 massages followed by sweating), yoga, meditation and singing classes, spiritual teachings, workshops & activities, three excursions, accommodation, food (2 meals per day except during detox), transfer from Mangalore airport.
Not included: international flight, travel insurance, transportation not mentioned in the program, tips for hotel staff (mandatory, $25 CAD minimum to be given at the end of the stay), snacks between meals, beverages, donation to the Manasa Jyoti orphanage (recommended minimum $25 CAD), massages and additional medical consultations as well as personal expenses and overnight stays and meals in addition to the retreat dates.
Download the PDF brochure using the form below. You will find a sign up button on the eighth page.
Who are we?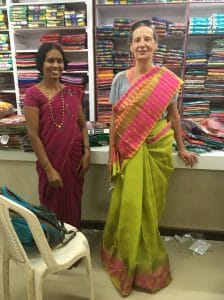 Marie-Noëlle has a PhD in anthropology, specializing in the anthropology of health and religion. Since 2006, she has also worked as a hypnotherapist. She will lead the talking circles, be attentive to group dynamics and give a few workshops to help you make the most of the meeting with the Other in a respectful way. She will speak in particular about the quest for meaning, healing, rituality, Hinduism and Indian culture. She will also give you some gentle yoga and Nidra yoga classes and will oversee the detox, in collaboration with our Indian team.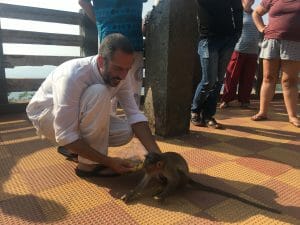 Computer consultant, but also Sivananda Yoga teacher  since 2007 and Zen Soto practitionner since 1991, JC (Sivaram) opened in 2015 a meditation center in the Laurentians (QC) where he led until 2020 nearly 250 retreats. From 2018, he developed his activity in India. During retreats, JC will lead meditation sessions, teach sivannada yoga and philosophy. He will talk about the nature of the mind, and how to control your mind. Its strong point is Bhakti yoga, the yoga of devotion, which is practiced through devotional songs and which promotes the opening of the heart. He takes Hindustani music lessons with Gajanan, his Indian music Master. MN & JC have shared their existence for thirty years and have two children.